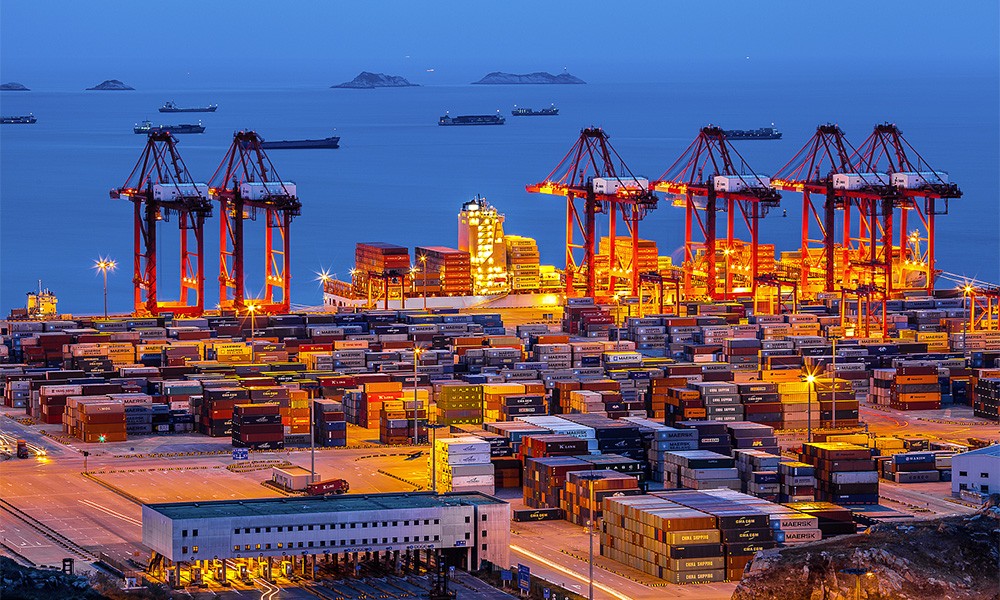 Shipping is a multibillion-dollar industry, and almost all Asian and European trade goods stop through one of several Chinese shipping ports. Of the top 20 shipping ports around the world, eight of them are located in China. China's top three ports alone are responsible for moving over 92 million TEU containers every single year, with the ports out of China, Hong Kong, the special administrative regions (SAR), and Taiwan responsible for over 28% of global trade.
The volume alone coming from China's top five ports has the potential to create logistics issues, supply chain inefficiencies, and increasing freight costs in direct response to the high demand. Knowing more about these ports can help provide insight to move freight efficiently and effectively.
1.The Port of Shanghai
By far the busiest port in all of China, this port sees an annual 5% growth rate, year-on-year, and this number isn't expected to slow down anytime soon. Not only is this the busiest port in China, but it's also the world's busiest container port, overtaking the Port of Singapore 11 years in a row. The Port of Shanghai alone handles over 37 million TEU containers per year. Given volume moving through this port, there are significantly higher freight rates and frequent problems with securing available space.
The port of shanghai, mainly handles minerals, including coal, metal and petrochemicals.
There are a large number of shipping lines NL, APL, China Shipping, CMA / CGM, COSCO, Ecu-Line, Evergreen, Hanjin, Hapag Lloyd, Hatsu Marine Limited, HUAL, Hyundai, K-Line, MSC, Norasia, NYK, OOCL, OWL, Rickmers-Lines, Roco-Carrier, UASC, WANHAI, Yang Ming, and ZIM.
There are three main terminal operators Port Wusongkou, Waigaoqiao and Yangshan and they have long term leases, which is unlikely to change hands for an extended period of time.
Unlike ports on the eastern coast of China, the Port of Shanghai's throughput in, container, dry bulk, and liquid are unlikely to decrease do the belt and road initiative and the port of Shanghai remains more effective for the East Asia to North America Trade route than overland routes.
2.The Port of Shenzhen
The name of this port might be misleading, since it's actually a collection of ports including Yantian Port, Chiwan Port, Dachan Bay Port, and Shekou Port. There are 140 berths, and 39 shipping companies call the port home. The port is rapidly developing and expanding its capacity. The primary focus of this port is serving as a hub for electronics manufacturers. It presently handles around 24 million TEUs.
3.The Port of Ningbo-Zhoushan
Once simply Ningbo Port, it merged with the Port of Zhoushan to expand its infrastructure and, afterward, landed the third spot out of the top five ports in China. This port is one of the busiest northern Chinese ports, known for exporting crude oil and ore. The port also handles a variety of goods from textiles, consumer electronics, and footwear to construction materials. Efficiency is continually improved and the port is able to handle around 21.6 million TEUs.
4.The Port of Hong Kong SAR
Hong Kong is an incredibly important part of shipping and trade routes and is in the middle of one of the busiest routes in the world. Coming in just under Ningbo in terms of volume, the port handles nearly 20 million TEUs yearly. Volume has been decreasing, thanks to competition from mainland China ports, making this port one to keep an eye on if businesses are unable to access berths at other popular ports. It's nine container terminals connect over 470 global locations.
5.The Port of Guangzhou
This port covers an immense 250 miles of coastline and is China's major southern shipping hub. From this port, containers — largely transporting agricultural, industrial, and manufactured products — can be shipped to over 100 Chinese ports and 350 global locations. The port handles nearly 19 million TEUs, and it continues to expand its capacity for throughput yearly.