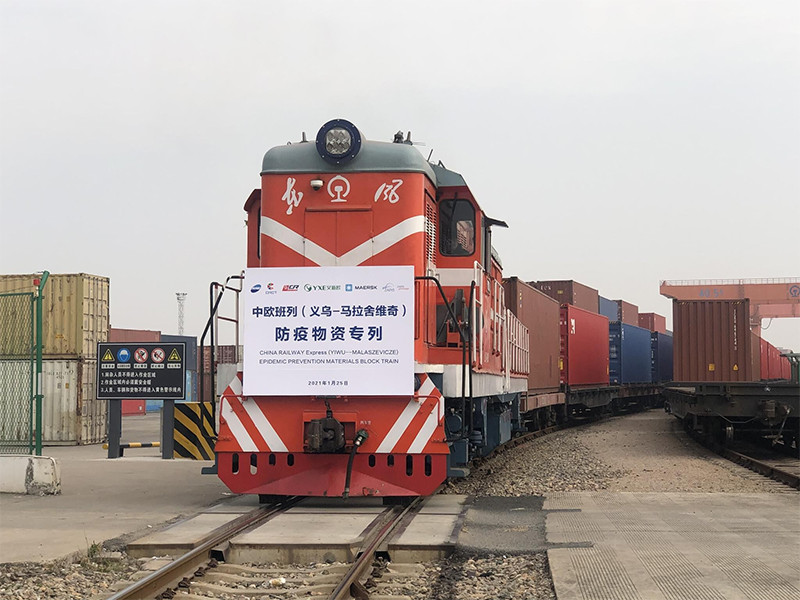 (It is the first China-Europe freight train carrying prevention supplies this year, and will arrive in Poland in about 13 days.)
The number of China-Europe freight trains has continue to surge, rising by over 50 percent to an aggregate 12,406 in 2020, against the backdrop of a wildly spreading coronavirus pandemic, Chinese officials said.
Overland rail freight has shown significant capacity to stabilize supply chains and become the " arteries of trade" for countries along the routes to help combat the coronavirus and hasten an economic recovery, said Zhao Chenxin, secretary general of the National Development and Reform Commission on Tuesday.
As global freight transportation was subdued amid the pandemic, China-Europe freight trains transported 1.13 million containers in 2020, including 9.39 million items of medical equipment, with Italy, Germany, Spain, Czech Republic, Poland, Hungary, the Netherlands, and Lithuania the major destinations, Zhao said.
In particular, in the second half of the year, the number of trains dispatched remained steady at around 1,200 per month.
Operating efficiency has also steadily improved, with the number of heavily loaded containers reaching 98.4 percent, up by 4.6 percentage points over the previous year, with freight value hitting $50 billion as the demand of important intermediate goods in the international industrial chain have grown rapidly, aside from the traditional categories such as electronic products, food, wood and chemicals.
More routes have come online in 2020 with China-Europe freight trains covering 92 cities in 21 countries and regions, an increase 67 percent over the previous year. And, 73 special dedicated operation lines for China Europe trains are in the pipeline.