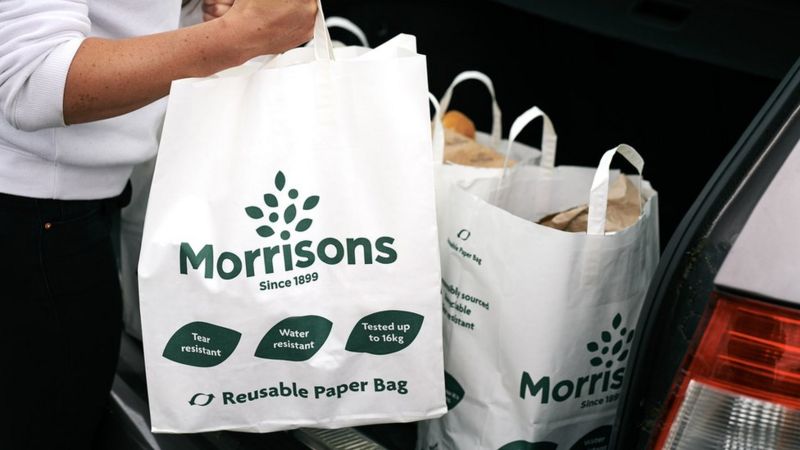 The supermarket chain Morrisons is starting trials which could see it ditch all its plastic bags for life.
From Monday it will offer strong paper bags instead of reusable plastic ones in eight stores, and, if customers seem happy, offer them at all 494 stores.
Morrisons says the paper bags can carry up to 16kg, have handles and can carry up to 13 bottles of wine - as much as the plastic counterparts.
All leading supermarkets are trying to cut plastics use.
Waitrose said it was planning its own trial to remove bags for life later this year.
But while two of the biggest, Tesco and Sainsbury, have both taken steps to curb plastic use around its stores, they defended the use of bags for life.
Tesco said its were made from 100% recycled and fully recyclable plastic. It recently stopped using plastic bags to deliver online groceries following a successful trial last year.
Sainsbury gave the same details for its bags, and said it was trialling a return to bagless deliveries, which were temporarily stopped amid the pandemic.
Morrisons said there was evidence bags for life are being used once before being binned.
It said a full replacement of its bags for life would save 90 million plastic bags being used each year, the equivalent of 3,510 tonnes of plastic per year.
· Plastic or paper: Which bag is greener?
Morrisons' chief executive, David Potts, said: "We believe customers are ready to stop using plastic carrier bags as they want to reduce the amount of plastic they have in their lives and keep it out of the environment.
"We know that many are taking reusable bags back to store and, if they forget these, we have paper bags that are tough, convenient and a re-useable alternative."
Half of the stores involved in the trial are in Yorkshire with the other four in Cambridgeshire, Bristol, Abergavenny and Paisley.