The Dragon Boat Festival is one of the traditional festivals in China. Together with the Spring Festival, Qingming Festival and Mid-Autumn Festival, it is called the four traditional festivals in China. Nowadays, the custom of Chinese people to celebrate the Dragon Boat Festival has spread to all countries in the world. Many countries will also hold an interesting activity on this day, that is, "Dragon Boat Race", and "Zongzi" has also become a must for Chinese people on the Dragon Boat Festival food to eat.
Chinese people pay much attention to the Dragon Boat Festival, and the cultural influence of the Dragon Boat Festival has spread to the whole world. How much do you know about Chinese Dragon Boat Festival culture? Do you want to know how the Dragon Boat Festival came about? Now, please follow Jialan Packaging to learn more about the "Dragon Boat Festival" related stories.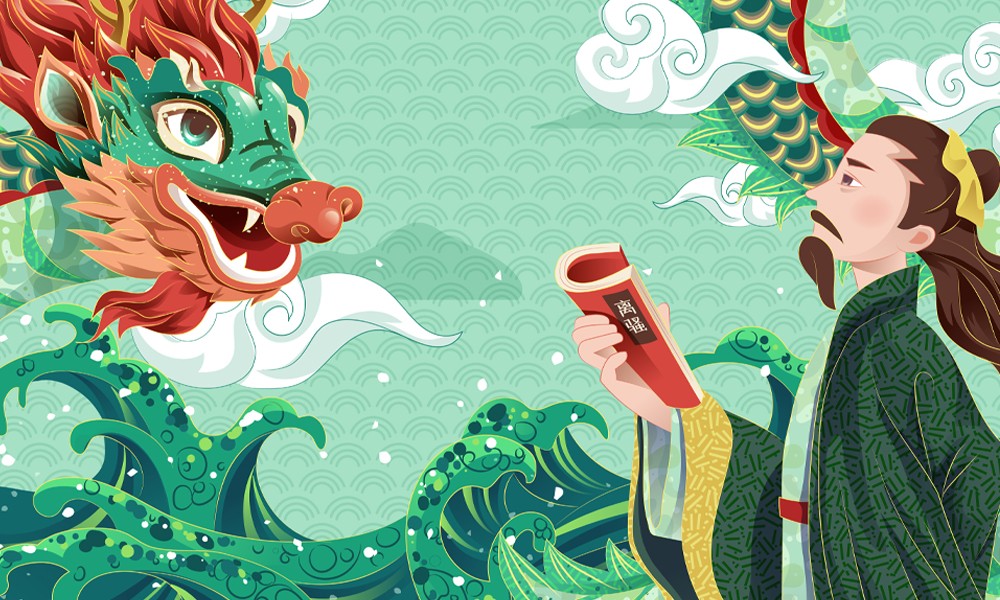 The origin of the Dragon Boat Festival:
The Dragon Boat Festival originated in the Spring and Autumn Period and the Warring States Period. It tells the story of the patriotic poet Qu Yuan who was bouldering and bouldering against Luo Jiang Mingzhi in anger on this day. This story shows the world his passionate patriotism. When everyone heard the news of his death, they rowed boats to chase after him and tried to salvage his body. After a lot of efforts, they were unsuccessful. In the end, people could only use dumplings in the river to feed the fish and worms to avoid Qu Yuan's body being swallowed. bite. On this day every year after that, everyone will use the same way to remember Qu Yuan, and the day of Qu Yuan's death has evolved into the "Dragon Boat Festival" that has been passed down to this day.
Dragon Boat Festival customs:
When I was a child, I often heard this nursery rhyme about the Dragon Boat Festival "May 5th, after the Dragon Boat Festival, racing dragon boats, beating gongs and drums", these short four sentences convey people's activities on the Dragon Boat Festival. "Dragon boat racing is a very meaningful activity, it is not only born to commemorate Qu Yuan, but also can make people feel happy in the race and make the spectators excited!
Of course, the customs of the Dragon Boat Festival are far more than these. There are also making zongzi, eating zongzi, wearing sachets, and inserting wormwood in front of the door. Each method is highly valued by the Chinese people, and every activity also reflects China's long history and culture. China is a multi-ethnic country, and the customs of the Dragon Boat Festival will be different in each place. What I have listed is only a part of it, and more cultural heritage needs to be explored together.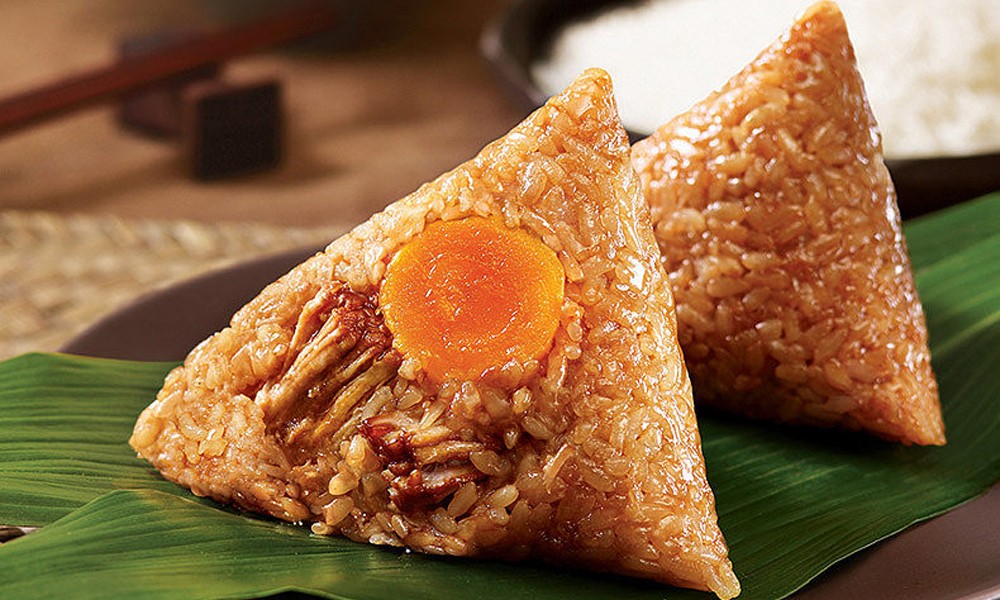 Why do Chinese people attach so much importance to the Dragon Boat Festival?
Life is changing and progressing every day. Nowadays, Chinese people are flying in the era of information explosion and cultural diversity. Various folk festivals including the Dragon Boat Festival are part of Chinese history. Chinese people are more willing to vent their inner feelings and inherit Chinese culture through these festivals. essence.
Living in a fast-paced era, people can only relax through festivals, and the Dragon Boat Festival lacks a sweet time that can create reunion for the family. We can make rice dumplings together, or participate in dragon boat races with family and friends. Feel the presence of festivals in the event. In fact, under the epidemic, we are moving forward every day, and festivals like the Dragon Boat Festival provide us with an opportunity to share and relax with others, which we need to cherish.
Now, I want to share with you some of the most popular Dragon Boat Festival gift boxes on the market this year. Their packaging design and printing process are showing the strong atmosphere of people celebrating the Dragon Boat Festival. These designs are inspired by every element of the Dragon Boat Festival. , such as dumplings, dragon boats, etc. The shape of the packaging is divided into three grades: medium, high and low-end, and the packaging of each gift reflects an identity.
The purpose of sharing these gift boxes is to let everyone understand the business scope of Jialan Packaging Factory. We are a professional paper packaging and gift box packaging manufacturer. We can make satisfactory gift packaging solutions for customers. Our With a large enough factory, enough intelligent machines, and a strong enough production, business, and design team, we can provide you with one-stop service to solve the paper packaging problems you need.
Dragon Boat Festival gift box recommendation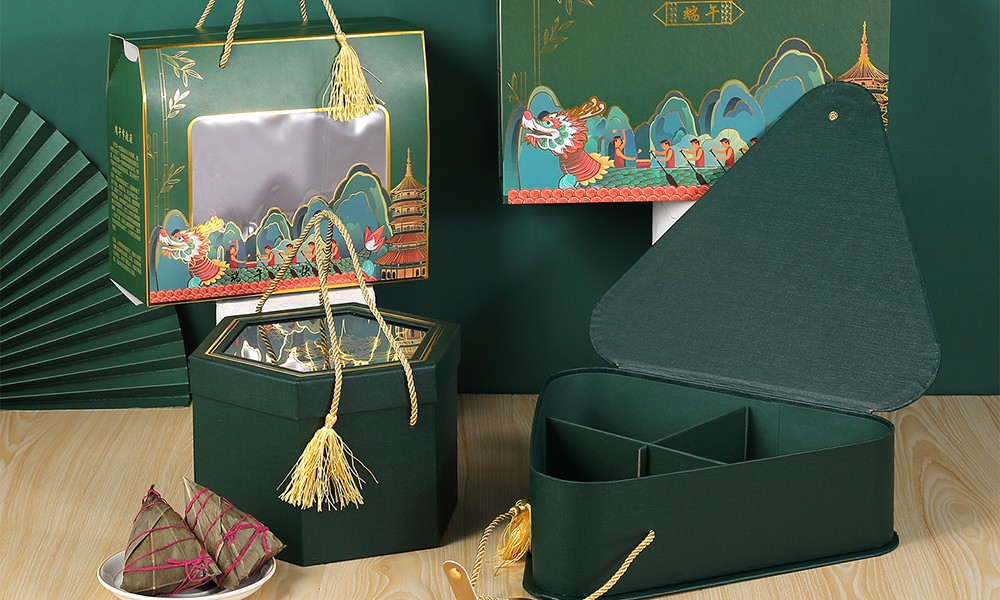 1. Dark green gift box series
This is a gift box set. There are four types: portable flip box, heterosexual box, triangular box, and translucent window gift box. The color of the box is this year's popular color "dark green", which is similar to the color of zongzi leaves. The pattern of dragon boats is printed on the gift box, which looks unique. The text part and the zong leaf embellishment choose advanced bronzing technology to make this gift box more delicate and high-grade.
This Dragon Boat Festival gift box can take more consideration into the consumer group in the box design. The amount of rice dumplings that each box can hold is also different. It can adapt to the choice of middle, high and low-end consumer groups, and it is precisely because So it has also become a favorite packaging for grocers.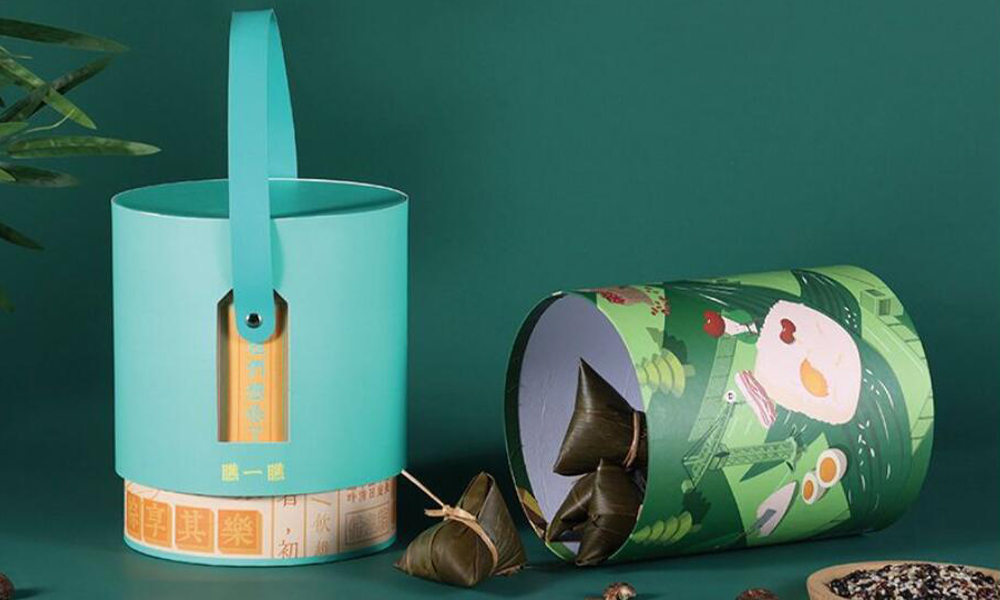 2. New Zongzi Box-Zonglele
This is a new type of portable drum-shaped dumpling box that can be rotated. Its design is more playful. It has a built-in porch, and you can feel more fun when you turn it around. The design of the box lid and window + delicate Hand feel + leather hand-held, every design is considering the consumer's experience.
It is important to note that this box has two different colors. The colors are fresh and bright, each with its own characteristics. It is the best gift box packaging choice for important friends during the Dragon Boat Festival.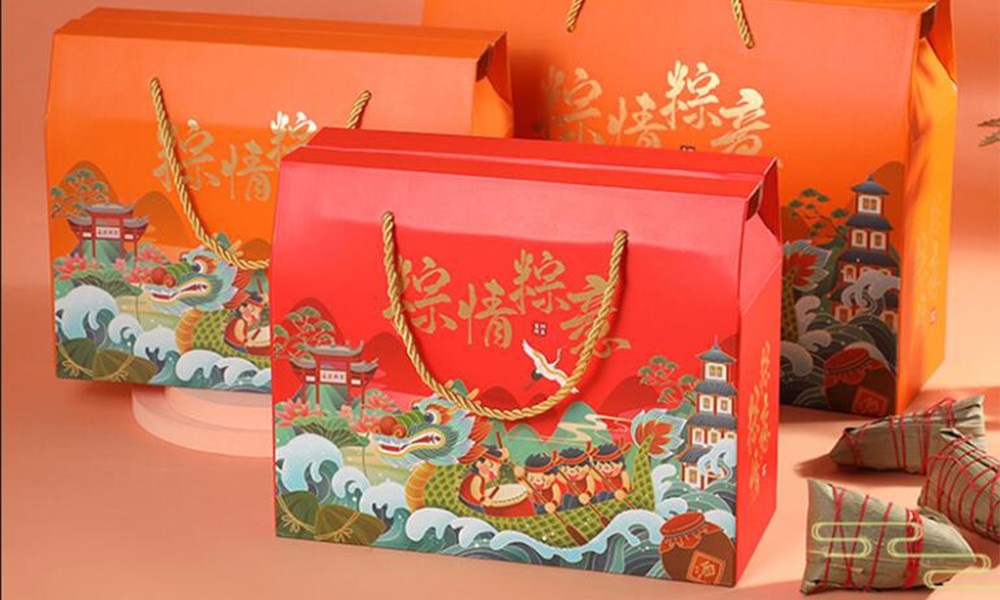 3. Popular Zongzi box
This one is the most commonly used dumpling gift box packaging in the market. It can be said that it can be seen in every shopping mall and supermarket. The biggest advantage of this kind of packaging is that it can be printed quickly, the price is cheap, and it can be folded. This is a rice dumpling gift box packaging that the public is willing to choose. business like.
If you need more order information related to gift box packaging and carton packaging, please contact us via Email: sales1@jialanpackage.com.