Gifts are an important hub for maintaining social interaction between people. People will choose different grades of boxed gifts according to different social needs. This is also an important factor that promotes the rapid development of the gift box market.
With the advancement of modern technology, there are more and more materials that can be used to make gift boxes, and the gift box packaging on the market is mostly plastic, paper, iron paper, and wood. The molding of these gift boxes will go through many processes. The first process is to create the artwork by the creative designer. The perfect personalized gift box with the pattern, which is then used in commercial marketing by various industries or brands to create the value it brings.
1. Regional analysis of gift box market coverage
If you want to expand the business related to gift boxes on a global scale, what we need to do is to forecast and evaluate the situation of the gift box market around the world. According to relevant data surveys, in the global region, the regions with high demand for gift boxes are mainly concentrated in the Middle East, Asia Pacific, North America, Europe, and Africa. Brands will also be more budget-friendly and environmentally friendly when choosing gift box packaging. Safe gift box packaging.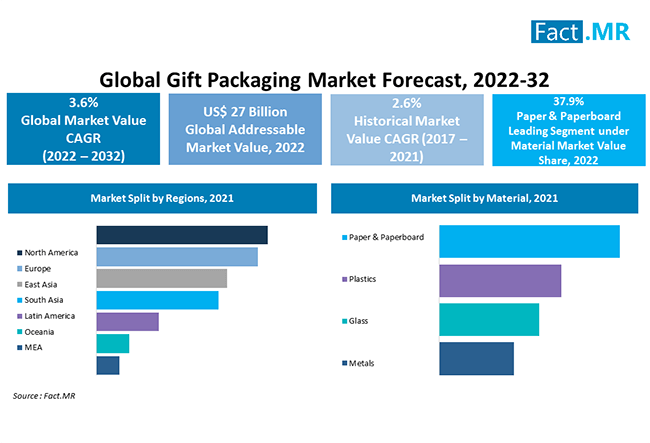 Image Source:https://www.factmr.com/report/2231/gift-packaging-market
2. Analysis of the development trend of the gift box market
The dynamic development of gift boxes has a lot to do with market demand. In the past few years when the global epidemic broke out, the development of the offline industry was sluggish. With the advent of the era of online social media, the production and sales methods of the industry have become transparent, and consumers' needs and ability to judge promote. In this mutually restraining relationship, the brand side needs to gain consumer reputation and trust from various aspects such as brand story, production process, product function, product packaging, quality inspection and certification.
Gift boxes are the most direct way for every brand in the industry to gain the goodwill of consumers. Through the integration of personalized gift box packaging and product display, the most intuitive short video method is delivered to global netizens on social media platforms such as Tictok and YouTube. While portraying the brand image, sales are profitable, and gift box packaging occupies a position in brand marketing.
Throughout the global gift box market, brands in various industries have obvious needs for customized gift box packaging design, which means that they have higher requirements when choosing gift box packaging factories for customized product gift box packaging, such as sample design, use Material selection, printing and plate adjustment, factory machinery, production scale, quality control and quality inspection, transportation services, etc.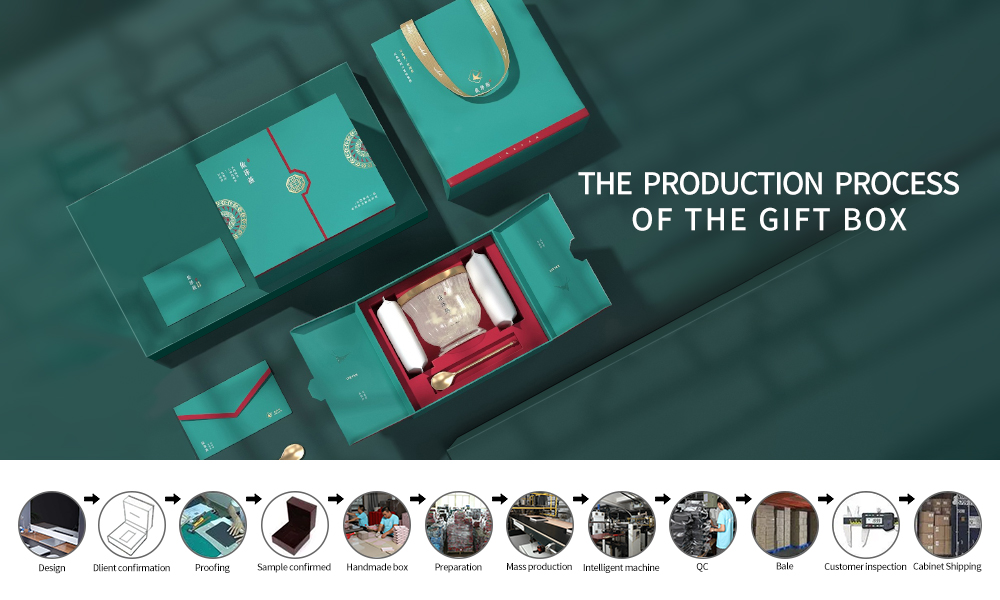 3.How a business can grow?
The two relations of "supply and demand" are a pair of interaction and interdependence in social activities. In the development scope of the gift box market, the industry has a high demand for customized gift boxes, but it is difficult to find direct suppliers that can meet the needs of brands and provide one-stop OEM/ODM services for professional personalized gift box design and production.
In the supply and demand environment of the global gift box market, the secret for companies to achieve growth is to design good brand packaging and find a gift box manufacturer with a strong background that can provide one-stop service as a long-term supplier. Jialan Packaging Products Co., Ltd. is a supplier from China with more than 10 years of experience in brand packaging design and production.
We have a 3,000-square-meter packaging factory, advanced and intelligent packaging production machines, professional design and sales service teams, and more than 100 workers, which can meet your mass production needs, do quality control for you at any time, and provide you with a one-stop shop Gift box packaging design custom production service. We also have sufficient freight forwarding and transportation resources, which can provide safe freight services for partners who are engaged in import trade for the first time, and ensure the safety of each customer's order delivery.
If you are looking for a long-term cooperative gift box packaging factory as a supplier, but you do not know which factory is reliable and powerful, then you can consider choosing Jialan Packaging as your brand gift box manufacturer.Our professional sales can take you online at any time to understand the current status of order production.