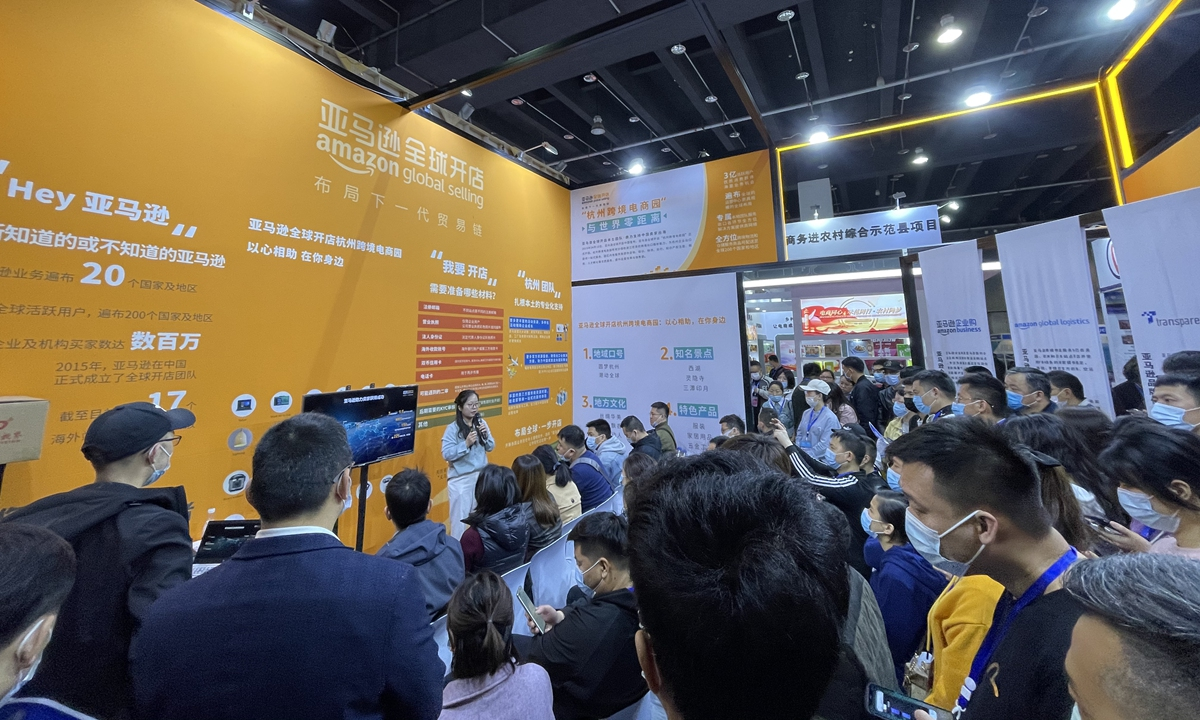 (A representative from Amazon introduces to visitors on how to start e-commerce businesses overseas at the 2021 international e-commerce expo in Yiwu, East China's Zhejiang Province.)
The three-day international e-commerce expo ended on Tuesday in Yiwu, the world's biggest small commodity trade hub, which attracted over 1,000 exhibitors from both home and broad, including business representatives from the US, Japan and South Korea.
As one of the biggest events in the post-pandemic era, the exhibition focused on the digital transformation of e-commerce. It attracted many exhibitors and retailers looking for business opportunities. E-commerce platforms regarded it as a good chance to attract more retailers and build their brands.
Sellers' hurdles:
During the three-day exhibition, representatives from Amazon made 15 keynote speeches about starting e-commerce businesses overseas. "About 3,000 sellers registered for the activities at the beginning. Many were from Beijing and Shandong Province, far away from Yiwu," a representative of Zhejiang business from Amazon, told the Global Times.
She didn't expect so many people to attend the event. Most of them had questions on how to open a business overseas, especially for those traditional sellers who don't know the process to open a business on e-commerce platforms overseas. "They want to know what kind of products are popular and how to solve logistics problems," she explained.
"Most sellers face two main hurdles: the selling process is different at home and abroad and the lack of professional talents," she said.
Chen Bo, marketing director (China region), Newegg Global Selling, a tech e-commerce platform in North America, shared a similar view. Chen also felt the enthusiasm in seeking new ways for business.
"Over 5,000 promotional materials were sent out within a day and many sellers expressed their interests on the platform," Chen told the Global Times.
They have questions on "how to select proper market and product," Chen said, noting that it's a good chance to promote their platform and help sellers solve all their problems.
The pandemic has forced many consumers to embrace a transition in their shopping behavior, from in-store shopping to e-commerce. For both consumers and sellers, the change is very significant and the trend is unlikely to be reversed, Chen said.
Despite facing COVID-19 pandemic, the trade hub in Yiwu, East China's Zhejiang Province, still saw a 12.9 percent increase in e-commerce compared with the previous year, with a trade volume reaching 312.49 billion yuan ($47.6 billion), according to the expo organizers.
Live streaming is also one of the innovative ways for e-retailers. Over 180,000 live streaming events were launched in Yiwu, with sales exceeding 20 billion yuan, according to the expo organizers.
Chen Peng, Director of the New Media Department of AMY Medical Cosmetology Prime Platform, brought his team to a live streaming event at the expo. Chen was stunned by the atmosphere there and believed his team made good brand building in the expo. Yiwu has been an important hub for retailers to sell products overseas thanks to its complete supply chain, Chen told the Global Times.
Yiwu Jialan Package company Opens a shop on Amazon. Many customers like our packaging products. In order to meet clients' demand, we are now selling wrapping paper on Amazon.
If you like our products, please click this link to your Amazon shop to purchase wrapping paper: https://www.amazon.com/dp/B091CY7CRK?ref=myi_title_dp