Promoting your business through printed gift bags is a marvelous idea, and in this blog, we will bring forth all the details that mark out their acceptance and recognition.
Running a business requires some expertise along with a lot of knowledge about branding, and printed gift bags serve as a tool that can help you out in the orchestration of your vocation.
So if you are eager to learn some tips and tricks to add grace and Quality to your line of work, then you have to read this entire piece of writing, so let's begin!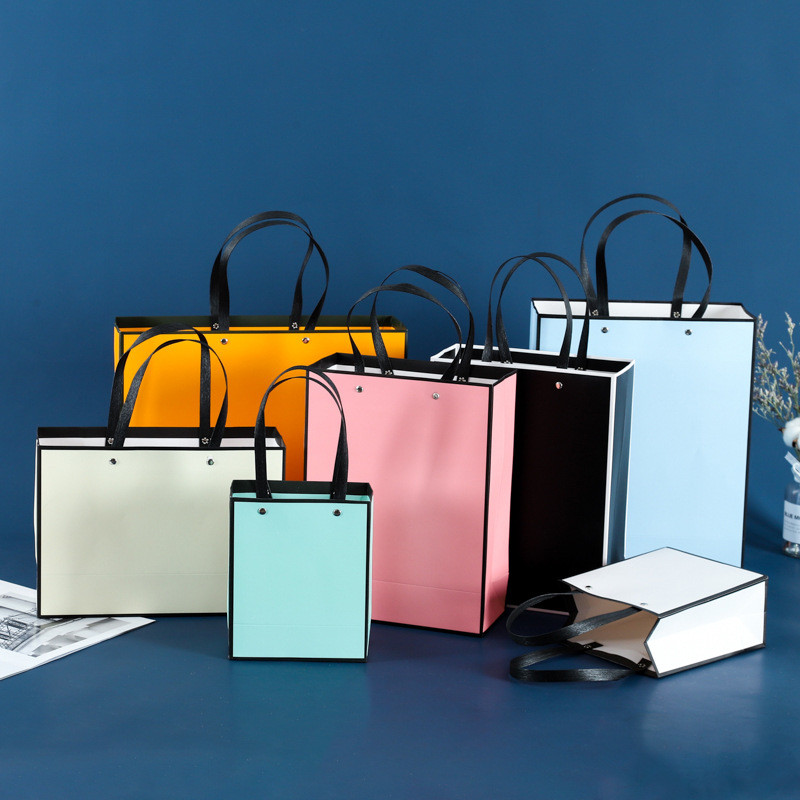 Promoting Your Business through Printed Gift Bags
Success in business relies on its recognition and acceptance among people. Quality always wins the heart of customers, so if anyone is heading towards your brand to purchase items, it describes their trust; therefore, to build trust and satisfy your customers, you can use printed gift bags as they demonstrate Quality and elegance; hence wins people's faith.
The visual appearance marks the first impression, and you will have definitely heard that the first impression is the last impression; to grab this chance, you have to make your product appealing.
However, printed gift bags can perform well in adding a sturdy and exquisite look, hence attracting customers to buy your commodity and assisting in the stimulation of your business.
What Makes Printed Gift Bags Worth Using for Business
Before promoting your business through printed gift bags, you must know the outcomes and benefits they are providing and the overall effect on your brand.
So let's discuss what printed gift bags have to offer and how they can fit our business and help in its stimulation.
1. Economical and Worthwhile Promoting Tool
Printed gift bags not only assist in promoting your business but are also the most suitable option that can save time, hard work, and, most importantly, the overall budget of their production.
The manufacturing process is a bargain as printed gift bags can be reprocessed from deteriorated ones, so they don't require expensive material for their makeup.
Moreover, they are simple, so they don't require sophisticated machinery that affects the overall budget for production. Furthermore, the material used is lightweight.
Light material bags are handy for customers and even for the industry as they don't create a hurdle in their delivery and shipping process.
All the above-mentioned aspects make printed gift bags a cost-effective choice for the stimulation of any business or brand.
2. Eye-catching
The simplicity and premium look of printed gift bags serve as an appealing agent that is effective in targeting customers to buy products from your brand and hence promote your business.
The Quality provides an attractive outlook that describes the standard of the product inside it, so you can make your brand recognizable by just featuring products in such gift bags.
Moreover, they are adaptable to any design and print; however, gift bags are manufactured as explicit material with no logo or print on them.
You can emboss any design that sets your heart on. Utilize this property and punch your business logo or a compelling quote that could grab your attention.
Suggestions for Targeting Customers Using Printed Gift Bags
As discussed above, promoting your business through printed gift bags is an art, so let's learn this art by following the instructions given below.
1. Identify Your Customers
Now let's learn how to identify customers and match their needs.
● First of all, you have to identify your customers and select the class or standard of customers whom you want to attract to buy your product.
● Match the style and desires of your customers, learn about what they want and improve the Quality of gift bags on the basis of their selection and choice.
● Gift bags can be presented in a number of ways, based on occasions and rituals, so identify whether you need to focus on wedding gift bags, birthdays, or others.
● Don't restrict your business by printing a single designed logo or print; expand your thoughts by printing images and characters according to the customer's needs.
● Make sure to provide Quality along with design, as printed gift bags are a mark of identification for your brand and the business you are running.
2. Choose a Good Quality Material
As stated earlier, Quality always wins, so promoting your business through printed gift bags must require quality assessment.
There are various choices you can make in terms of material for your printed gift bags; these include simple paper, paper obtained during the drafting process, and others.
Kraft material can provide you with durability and strength and enhance overall Quality, while other materials can also perform well in this regard.
Printed Gift Bags: Treat Your Customers Like This
When it comes to promoting your business, printed gift bags are the perfect way to get your message out there. These bags are easily recognizable and can be used in many different ways. They can be given away at trade shows or events as a way of advertising your brand. They can be used as a packaging option for products that you sell. And they can even be used as promotional items for customers who buy something from you!
The best part about printed gift bags is that they're so versatile. You can use them for any type of business, no matter how big or small. Whether you run an e-commerce store or an actual brick-and-mortar shop, these bags are sure to help boost your sales and visibility!
And if you want to give your customers something extra special—something that will make them feel like they're the most important person in the entire world? Well then, we suggest printing those bags right on site! The possibilities are endless!
Ending Lines:
Promoting business through printed gift bags is the best choice that anyone can make for the betterment of the brand and enhance its recognition.
We have mentioned the reasons why you must use these bags for your brand promotion, along with some suggestions that can help you with fruitfully using printed gift bags.
So, what are you waiting for? Choose a material and design that can describe your company in the best manner and manufacture attention-seeking gift bags without compromising on Quality.
This will definitely help you to grow your business.
FAQs:
1. What is the Purpose of a Gift Bag?
Gift bags, unlike typical bags, do not serve storage or transportation of goods but are specifically designed to carry gifts for your loved ones and to be a wonderful memory that can last longer.
2. What are Custom Printed Bags?
Custom-printed bags feature a specified logo or quotation representing a company or a brand; you can also print these bags with your desired images and quotes.
3. What do you Put in a Promotional Gift Bag?
To promote your brand or grab customers' attention, you can use promotional gift bags with T-shirts with the brand's printed logos or something that can attract kids.