Paper package is a good choice for carrying goods and transporting them from one place to another, but what are the benefits of paper packages that make them admirable for use?
Packaging plays a pivotal role in protecting goods from harm and shifting them, for example, from industry to stores. But which packaging material is worth using?
In this article, we will discuss some crucial aspects of these packages and will go through their benefits so that after reading this, you can choose among the best packaging material for your use.
Now let's get started without any delay as there is much more to find out.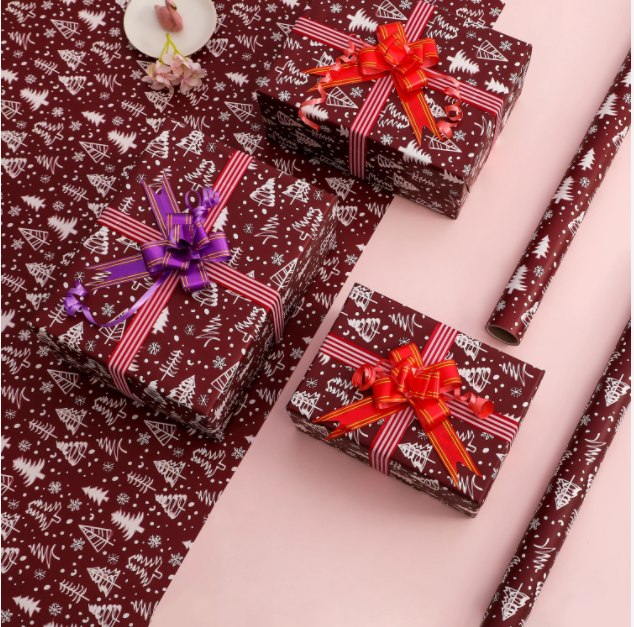 What are the Benefits of the Paper Package?
● It is more susceptible to microbial decomposition.
● The steps involved in converting old paper packages are uncomplicated.
● Paper packaging does not have any devastating effect on the surrounding environment.
● Paper packages are multifaceted and are available in different forms.
● You can print desired designs and company logos on paper packages effortlessly.
● Paper packages have greater acceptance among people.
Paper packages contain natural ingredients in their composition as it is made of plant-based materials like wood from different trees with cellulose as its main component.
So the legitimate composition of paper makes them reusable and environment friendly as they lack synthetic and chemical framework, which is the maximum benefit of the paper package.
Why are Paper Packages Worth Using?
There are varied sources to pack goods and products that are used in daily life, but what are the features that make paper packages the best of all? Let's discuss the benefits of paper packages.
1. Perishability
As you know, paper packages are composed of natural products, and along with it, they are decomposed by microorganisms, especially bacteria.
This is not true for plastic; therefore, it is considered a spoilage factor for our atmosphere as it needs persistent time for its putrefaction.
On the other hand, handed-down paper packages are necrotized by bacteria and eliminated from the environment safely without the release of toxic compounds and glasses.
2. Natural Composition
Paper packages include cardboard boxes, paper bags, containers, and much more; they all are considered pure as they are made up of paper containing natural sources and ingredients in it.
The breakdown of paper packages by bacteria leads to the release of cellulose and fiber, which are organic matters; they are retained by the soil and take part in ecological cycles.
On the other hand when a plastic material is degraded it results in a chemical reaction that switches the release of toxic by-products
This pollutes our environment and causes breathing difficulties and respiratory disorders. From soil, cellulose is regained by plants and takes part in the formation of the cell walls of plants.
● Composition of Paper
Let's see what the composition of paper is and which substances are included in the paper that makes it worth using and safe for the environment and play a role in the benefits of paper packages.

3. Strong Packaging Material
Paper packages are considered one of the most sturdy and constrained materials. Can you think about a single paper? Is it strong enough to hold heavy products?
The straightforward answer is no, but you will be amazed to know that processing and manufacturing processes can make paper capable of bearing heavy loads.
One of the leading examples is cardboard boxes that are made by compressing various layers of paper. So, it can bear pressure and prevent the breakdown of commodities.
Besides, paper-based packages can fit your budget with greater ease thanks to their wood-bases composition, which is a cheap source.
4. Appealing
An essential factor in product buying is its aesthetics and physical appearance; this role is well played by packaging materials. Paper packaging materials perform well in this field.
If you are running a business, you can print your company logo with a desirable design on paper packages. It looks appealing and eye-catching.
Moreover, researchers have concluded while buying any product; people prefer the one that is more attractive in terms of appearance.
5. Environment-Friendly
As discussed above, paper packages do not contain synthetic and chemical-based material in their composition, so their degradation is safe for the environment.
On the other hand, plastic packages, including containers and bags, add toxic gasses to the environment when degraded or destroyed by any process.
The decomposition of paper packages can lead to benefits by taking part in the ecosystem and plant development, thanks to their organic and pure nature.
Moreover, the process of renewing such packages is also unlike plastic which adds contaminants and poisonous agents and vapors to the atmosphere.
Paper Vs. Plastic Package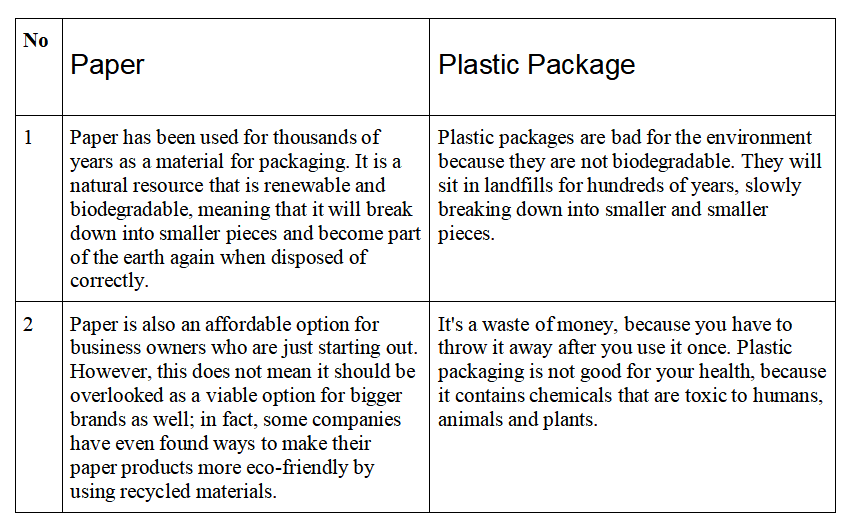 Concluding Lines:
In this blog we have discussed: what are the benefits of the paper package. So if you want to keep your atmosphere clean and reduce the level of toxicity in it, go for such packages.
They are safe, cost-effective, easy to use, easy to handle, robust, flexible and durable as well. So by promoting the use of paper-based packages, you can add your role in securing the atmosphere.
Moreover, paper-based packaging material can be used in different ways; For Example, you can use paper from discarded packages in wrapping things.
FAQs:
Why is Paper Better than Plastic?
Paper is healthy for the environment as it is made of natural resources and can be easily decomposed by bacteria, while plastic cannot be recycled and composted with ease.
How is Paper Bags Sustainable?
Paper bags can be used in various ways besides packaging and can be renewed, which is possible because of their organic co-position. They can also benefit soil and plants on decomposition.
Why is Paper Natural and Eco- friendly?
Cellulose is a vital and main component of paper that is responsible for its safe decomposition and eco-friendly behavior, it can be recycled and take part in the production of other useful commodities.