We all know that finding the right way to package gifts for families and relatives is tricky. It can be very expensive, and when it comes to packing fragile things, there is always a fear that they can break. But not anymore, because folding magnetic boxes are the ultimate solution for packing gifts. Folding magnetic box is something that has been introduced previously in the market; however, these days it has gained immense hype. In this article, you will find all the information about folding magnetic, from how they are made to their advantages and the best place to get them.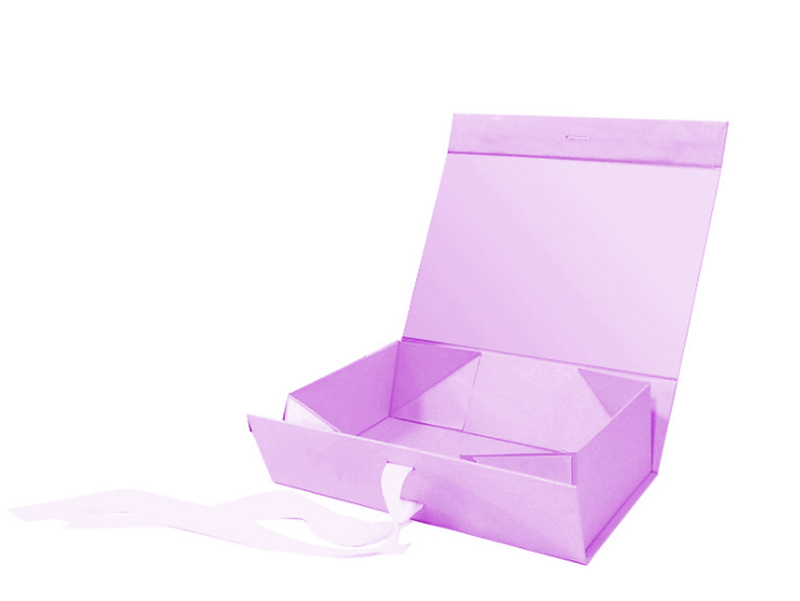 How are Folding Magnetic Boxes Made?
The foldable magnetic boxes are a popular packaging option for not only gifts but also for the industry. The magnetic boxes are very similar to the folding boxes with hollow walls. The lower part is connected with a hinged lid, and the sides have walls to obtain that perfect box structure. This allows the box to be stable and have a strong appearance. The lid of the box contains a magnet hidden in the folded-down part of the lid. The magnet closes the box with the sound of a "plop" and indicates that the magnet is working correctly. Depending on the box size, there can be either one or two magnets. Since the magnets are hidden, the exterior of these foldable magnetic boxes is very sleek and innovative. Furthermore, these foldable magnetic boxes are also very spacious and allow you to pack a lot of different kinds of gifts.
What can Magnetic Boxes be Used for?
Magnetic boxes make an effortless yet effective packaging for different things, making them look presentable. None of us wants to take the gifts as it is, but no one also wants to spend their money and time on getting them packaged. Hence, the simplest solution is to put the things in the folding magnetic boxes and make them look presentable. You can add many different things, such as chocolates, jewelry, bottles, cups, glasses, and more. The other fantastic thing about the folding magnetic box is that they are straightforward to organize. Since they will fold, you can easily keep them in any nook or corner of your home. Hence, this is a fantastic thing to have!
Noteworthy Advantages of Using Folding Magnetic Boxes
Following are some of the primary and most significant advantages of using magnetic boxes for packaging gifts and other stuff.
1.

Noble and Simple:
The best thing about these foldable magnetic boxes is that they are straightforward and noble yet look stylish. You can gift it to anyone you want, this elegant box will make your presents look more boogie and expensive.
2.

Time-Saving:
Another great advantage of using these folding magnetic boxes is that you don't have to waste time packaging the gifts. Sometimes, it can get very irritating to find the right packing paper and then pack the gifts properly, and it can also take a lot of time. But now, with these folding magnetic boxes, you need to put your stuff in the box, close it, and be ready to gift it. Thus, it is perfect for people who always get late when packing their gifts.
3.

Perfect for Fragile Objects:
Packing heavy objects like glasses, bottles, or cups can be challenging. There are chances that they might break because of this the packaging needs to be sturdy. However, when it comes to packing these fragile items, foldable magnetic boxes are the best choices ever.
4.

Stable and Strong:
As mentioned above, the folding magnetic boxes are sturdy and robust. This means you can pack anything and everything in it without fearing it getting damaged.
5.

Plenty of Space:
There are many different sizes of folding magnetic boxes; all are big enough to keep your objects and decorate the box. These also give you room to add different paper and other decorative items to the gift to make it look cuter and more beautiful.
6.

Presentation:
The folding magnetic box is the best thing you can get for presenting your gift. They look very sleek and elegant and give a clean look to your gift rather than the annoying paper packaging that gets ripped easily and does not look presentable.
7.

Suitable for Every Kind of Gift:
You can put almost every kind of gift in these boxes, chocolates, bottles, glass, jewelry, watches, cosmetics, etc., and you can keep it in these boxes. Since there are different styles and shapes, you can find the perfect one according to your gift item or get it customized. Other than this, there are many pros to folding magnetic boxes, which is why everyone is now using them for packing stuff.

Jialan Package – The Best Place to Get Folding Magnetic Boxes:
If you are hunting for a place that offers good quality folding magnetic boxes, Jialan Package must be your first and last choice. We are a manufacturer that makes custom paper gift bags, boxes, and other packing stuff. One of the reasons this is the best place to get the packing material is because all of their products are eco-friendly and feature top-notch quality. Jialan Package also has fantastic customer supper that offers their client complete packaging solutions. Therefore, Jialan Package makes your best bet for getting folding magnetic boxes.
Conclusion:
Magnetic boxes are a great thing to pack gifts. They make it look more presentable and give it a clean and elegant look. Besides this, these have loads of other benefits. We have described most of them in this article which features all the information about folding magnetic boxes. If you are looking for the best-of-the-best place to get folding magnetic boxes this Christmas, Jialan Package has got you covered! You can also get your box customized, as per your choice.