The celebration of birthdays is a joyous occasion that can offer happiness and excitement to people of any age. Whether you're celebrating a big birthday bash or a little get-together with close friends and family, it's always a good idea to show your loved ones how much you care by purchasing them a thoughtful present. This is true regardless of the occasion you're commemorating. And what could be a more appropriate way to present a birthday gift than in a gift bag?
Birthday gift bags are available in a wide variety of types, contours, and designs. They are a quick and simple way to lend an individual touch to the presentation of your gifts in their packaging. Here are some ideas to get you started thinking about birthday gift bags for your next occasion to give gifts:
Personalized Gift Bag
One of the most effective methods to ensure that a birthday gift bag will be remembered is to personalize it. Stickers, paint, or embroidery can be used to give the bag a personalized touch by adding the recipient's name or initials to the bag. You may also customize the look of the bag by giving them the option to pick their own color, pattern, or theme for the bag. Adding a touch of personalization to a gift bag illustrates the care and effort that you put into the present.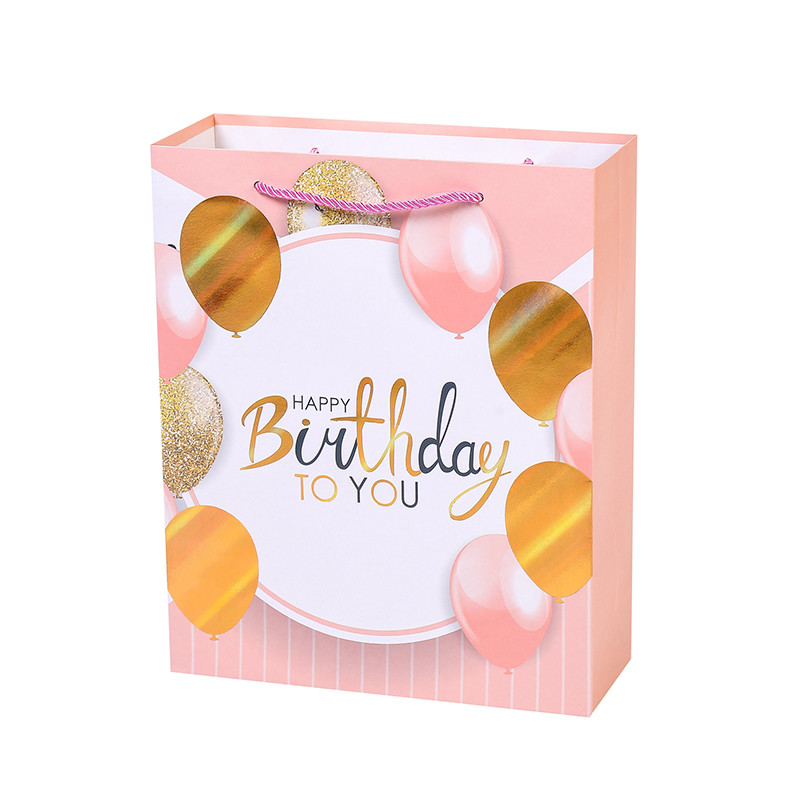 DIY Gift Bag
If you're feeling particularly creative, you can put together a DIY birthday gift bag for a friend using things that you already have at home. You may add a decorative touch to plain paper bags by using stickers, stamps, or markers. You could even repurpose previously used gift bags and put your own unique touch to them. Not only will you save money if you make your own gift bag, but it will also offer a more personal touch to the present you are giving.
Themed Gift Bag
Creating a gift bag with a theme that reflects the recipient's unique personality can be accomplished by paying attention to the interests and pursuits of the person whose birthday it is. For example, if they have a passion for exploring new places, you could select a gift bag that features a map design and stuff it with items that are associated with traveling, such as a passport holder or a travel journal. If you know the recipient enjoys good cuisine, you might put some gourmet treats and a cookbook inside of a gift bag with a culinary theme. It communicates that you understand and cherish the recipient's passions when you give them a themed gift bag.
Eco-Friendly Gift Bag
Use gift bags made from recyclable materials such as paper or fabric if you're looking for an option that doesn't have a negative impact on the environment. To achieve a more weathered and authentic look, you might also try using natural materials like jute or burlap. Selecting gift bags made from sustainable materials helps the environment and cuts down on waste.
Surprise Gift Bag
You may add an element of surprise to your gift by creating a bag that appears to contain a surprise within. The item's contents can be concealed by placing it in an opaque or coloured gift bag, covering it in numerous layers of tissue paper or wrapping paper, or placing it in a present box. To maintain suspense and keep the recipient wondering as to what's inside the bag, you might also include a small message that hints at the contents. The act of gift-giving can be made more suspenseful and thrilling by including a gift bag containing a surprise assortment of gifts.
Luxurious Gift Bag
If you like to give a more lavish gift, you may choose a velvet or leather luxury gift bag. Embellish the piece with crystals or sequins to achieve a more opulent appearance. A lovely and refined touch can be given to a gift with the aid of a quality gift bag.
Children's Gift Bag
If you want to send your young fellows a gift, you may make a colorful and exciting gift bag for them by considering the activities they enjoy. You might get a gift bag for them that depicts their favorite comic book hero or animated character, or you could make your own gift bag for them using stickers and markers. You can also put things like painting tools, board games, or toys in the backpack so that it can be used for playtime. By using a gift bag that is designed specifically for children, you can provide an air of originality and whimsy to the present you are giving.
Gift Box
Consider using a gift box if you're seeking a more elegant way to give your present. Gift boxes are available in a number of sizes and shapes and may be personalized with a pattern and color of your choosing. For a more refined aesthetic, you can also add embellishments such as ribbons or bows. A gift box can be packed with a combination of useful and sentimental items, making it an excellent alternative for any occasion. In addition, the recipient can reuse the gift box for storage or as a home accent, making it a gift that keeps on giving.
Bottom Line
In conclusion, birthday gift bags are an alternative presentation method that enables greater creativity and variety. There are an infinite number of possibilities available to you, regardless of whether you would like to customize, make on your own, or design a themed gift bag. Adding a personal touch in the form of a birthday gift bag shows that you have given some thought to the item that you are presenting to the recipient as a present.
You might also use luxury gift bags or gift bags that are kind to the environment if you're looking for a more extravagant or environmentally responsible alternative. Regardless of the type that the gift bag takes, you should make sure that your gifts within are ones that your loved ones will appreciate for the thought and meaning that went into their selection.